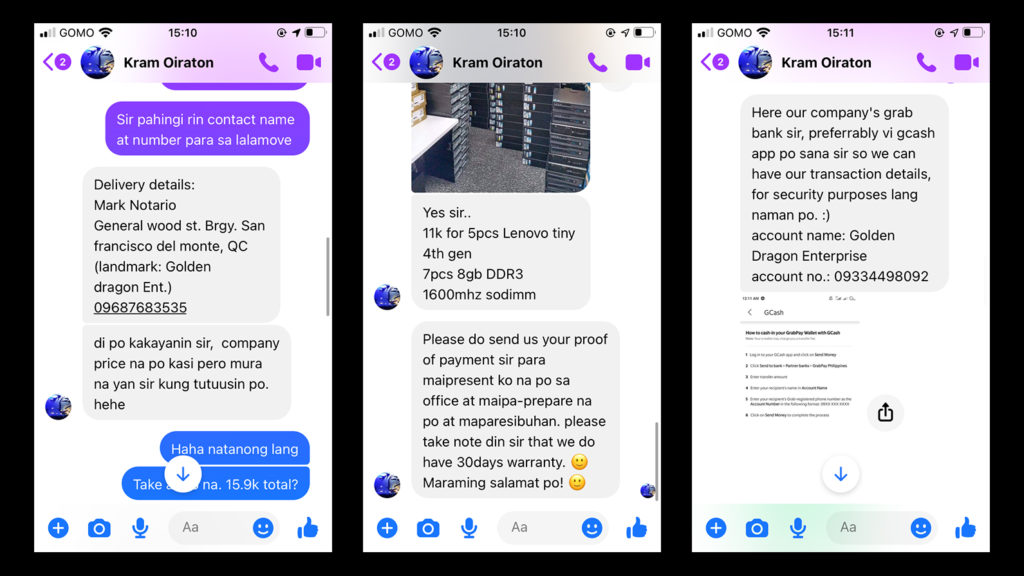 For the past few months I've been buying tiny PCs in FB Marketplace because I'm planning to create a homelab Kubernetes cluster for learning. I've purchased a lot in the marketplace before and everything went through. Most people are trustworthy. But of course, there are exceptions.
What was the scam?
The seller presented himself as company employee. I was told that they have a warehouse and a procedure of payment-first to process orders. This is a red flag in itself. However, when I checked the pick-up location, the company really do have a warehouse and it's registered under the company name. This addressed my first concern.
The way the messages was structured was it addresses any hesitation that might come up. It looks like they really do have a standard procedure. I went ahead and transfer the amount agreed to.
And then he's gone.
At first I felt my anger building up. Then shame slowly creeped in. I felt stupid for falling for it. My initial thought was to keep it to myself. Sharing it would only validate my stupidity.
I somewhat knew that if I kept things to myself, the bad experience will just linger at the back of my mind for days. Even if it's embarrassing, I shared it to Julie and my friends.
What could I have done next time?
There are multiple ways to catch this con. It's a little more hassle but for large transaction it's worth it. Here's the thing I should have done instead:
Call the company to verify person employment
Ask for an I.D. and live photo of the items
Most sellers offer payment only when the pickup service has arrived — insist on doing this
Avoid large transactions on Gcash/GrabPay because they specifically exclude swindling (transferred money but unfulfilled order) to their protection coverage
What good did come out of this?
I'm actually getting addicted on finding good deals in the marketplace. Even for things I don't need. There's this instant gratification in same-day shipping purchase. It's getting harder to control myself especially when I'm stressed out and my willpower is spent. Now, I have natural aversion on buying. I don't visit the marketplace any more haha.
Another thing that was surprising is how I was able to regulate my emotion. In less than an hour I was able to accept and acknowledge the situation. I knew that getting angry or feeling shame wouldn't make a difference. It will only make my loss bigger (by being emotionally invested in something I don't have control of). I was able to resume my day as planned.
This was good exercise on how I'd react when real bad things happen. I'd say this lesson is well worth ₱15.9k.
#
Here's the details for SEO: Golden Dragon Enterprise 09334498092 09687683535